Each October the Department of Labor recognizes the National Disability Employment Awareness Month (NDEAM), a national campaign that seeks to raise awareness about disability employment issues and bring recognition to American workers with disabilities. The observance of this holiday gives employers an opportune time to review company policies that ensure the commitment of a more inclusive workplace.
Join us as we go over some information on NDEAM and delve into how employers can work towards a more inclusive workplace this October and for the rest of the year.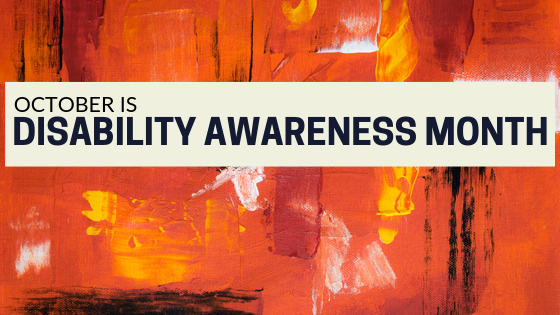 National Disability Employment Awareness Month
The month got its start as an extension of "National Employ the Physically Handicapped Week" that was observed in the first week of October beginning in 1945, and in 1962 the word "physically" was removed to acknowledge the employment needs and contributions of people with all types of disabilities. The week would later be extended to a month by Congress in 1988, with each week being dedicated to how employees and employers can improve their awareness of employment needs in the workplace.
Observing NDEAM
Every year NDEAM has a different theme to guide the discussion of awareness for the month. This year's theme is "The Right Talent, Right Now," which focuses on emphasizing the importance that people with disabilities play in America's economic success, especially in a time with historically low employment and global competition are creating a high demand for skilled talent.
The Department of Labor has some excellent sources and toolkits for how to best observe NDEAM in the workplace, but we thought it would be helpful to list some of those ideas (and some extra ones we thought of!) right here. Some steps that employers and employees can take for October are:
Review Existing Policies- NDEAM is the perfect opportunity to review your companies' policies to ensure they're in line with an inclusive workplace.
Educate Employees- NDEAM offers time to naturally begin a conversation about inclusion in the workplace. Consider holding training sessions that highlight the employee's role in fostering an inclusive workplace by reviewing relevant policies with them.
Train Supervisors- Same as your regular employees, your supervisors are going to be the ones to ensure that everyone is onboard with company policies and culture. Take similar steps as educating your regular employees but hold yoursupervisors for executing your inclusion strategy.
Participate in Disability Mentoring Day- The American Association of People with Disabilities offers some resources on how to implement this kind of event, but mentoring days offer a chance to promote career development for youth with disabilities through hands-on programs.
Inclusion Outside of October
Having a workplace that is committed to diversity doesn't just have to take place during NDEAM but can take place all year. NDEAM offers the ability to launch a year-long campaign that will ensure your business is committed to including disability in all of your diversity efforts. Keeping with the same theme, here are some steps that you can take to being committed to the spirit of NDEAM all year long:
Gather Ideas from your Corporate Disability Resource Group (or form one!)- If your business has an Employee Resource Group (ERG) related to disability issues it would be beneficial to gather some ideas from them on activities, speakers, and topics in your awareness efforts.
Display Poster Promoting Disability Inclusion- The Department of Labor has several NDEAM related poster print outs that can be posted around the office to promote disability inclusion. When you put them up for October, keep them up all year!
Incorporate Disability Into your Onboarding Process- We've covered Onboarding here in a separate post, but it would be an excellent place to educate new employees on your companies' policies and practices related to disability inclusion.
Hold a "Lunch and Learn" Series about Disability Issues- an easy way to inform your workforce about disability issues affecting your business and industry is hosting a monthly "lunch and learn" event for them. Buy your employees' lunch and take the time to hold an information session about different disability inclusion topics.
Inclusion doesn't have to end in October, and NDEAM gives us the opportunity to reflect on how to create a more disability-diverse workplace. Take the initiative and begin the steps towards inclusion this October!
Looking to make your workplace more inclusive? SolveHR offers a suite of strategic human resource strategies to make this year's NDEAM the most diverse ever. Contact us to find out more about how we can help improve your disability policies. Let us take the guesswork out of HR so you can focus on what matters—Growing your business!