In a previous blog post, we discussed the importance of having a solid employee recruitment strategy to hire the best employees to your organization. In that same post, we touched on how hiring employee goes beyond recruiting them to your ranks but extends past the hire date in a process called onboarding.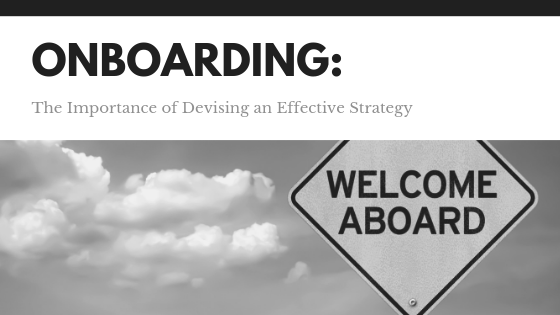 Onboarding in this context is the action or process of integrating a new employee into an organization. This process is to ensure a smooth transition for the employee and increase retention and improve productivity.
Think of it like this, if you were hired to an organization and immediately thrown to the wolves it would be a culture shock. This is what makes the process of onboarding so important. By easing an employee to an organization, you can ensure that everyone is on the same page by establishing expectations early.
Onboarding
When an employee gets newly hired it provides a unique opportunity for the employer to begin to build a relationship with that employee. The Society for Human Resources (SHRM) outlines the importance of this relationship with some enlightening statistics. According to SHRM, 69% of employees are more likely to stay with a company for three years if they experienced a great onboarding process.
Additionally, Gallop has reported that we are in an era of voluntary quitting from U.S. employees. The quit rate of U.S. employees is the highest it has ever been since the government began tracking the metric in 2000. Gallop data has also shown that 67% of U.S. employees are disengaged at work, with 51% of employees saying that they're actively looking for a new job.
When you take the SHRM and the Gallop data into account you can begin to see that something must be done to ensure that new employees are encouraged to bring their A-game to work every day. You never get a second chance to make a first impression, so it's important that as a company you establish the expectations between the employer and employee early with an effective onboarding process.
Onboarding Strategies
Any successful onboarding strategy begins on the first day of employment for a new hire. This is the first impression an employee has to the company culture and is often conducted through an employee orientation. This is often where most businesses begin and end their onboarding process. This is a common mistake as the process should last up until the first year that an employee is hired!
A yearlong analysis of a new hire is the best approach that a business can take with onboarding new hires, as SHRM reports that it takes about 90 days for and employee begin to prove themselves at a new job. By following an employee's development over a year, you can begin to see how they are acclimating to the work environment. The yearlong strategy can be broken up into three parts:
1. The First Day- The first day should be focused on setting the expectations and introducing the objectives of the organization. Employees should have a clear idea about what their job duties are on day 1 of employment.
2. The First Month- It's important to check in with the employee to make sure that they are acclimating to the workplace well. It also allows for an opportunity to discuss how the employee is performing on their duties and allows for a channel for them to express any concerns they may have.
3. The First Year- Reviewing an employee's performance at the end of their first year will prove if they're being productive in the job. You can begin to review their performance and make notes on how they can improve for the future.
It is also helpful to begin to think about what exactly you want your new hires to know about your organization. This is where the process extends into a discussion with your current employees. When fine-tuning your onboarding strategy, it is helpful to gain this insight from veteran employees as it turns the process into a community effort. Some helpful points to think about when designing a strategy are:
 Define your objectives with your employees
 Make your onboarding process long enough to make a difference
 Think about where your new hire should be headed after the onboarding process
 What expectations should both the employer and employee have for one another
The yearlong onboarding process we discussed is just one strategy that you can begin to employ to bring up to speed new hires, but the important lesson is that the onboarding process should be longer than just from the first day an employee is hired. By ensuring that all new employees are aware of the tasks, culture, and workplace that they are in can help the business in the long run.
Looking to increase the retention rate of your new hires? SolveHR offers world-class strategic human resource services that can help build a comprehensive onboarding process for your new hires. We ensure that your new hires are up to speed with the responsibilities of their position and they stay happy and productive from the first day to the first year of being hired. Contact us to find out how our services can help increase the retention of your new hires, so you can focus on what's important—growing your business!