In 2017 the Occupational Safety and Health Administration (OSHA) reported that 5,147 workers died on the job, an average of more than 99 deaths a week or more than 14 deaths per day. This number represents the importance of maintaining proper risk management in a business to ensure that employees remain safe on the job.
This is why OSHA has mandated that employers must provide their workers with a workplace that does not have serious hazards and must follow all OSHA Act safety and health standards by being OSHA compliant.
Compliance varies depending on the industry, but this post will go over why it is beneficial to a business to be compliant and some general rules to reduce safety and health hazards in the workplace.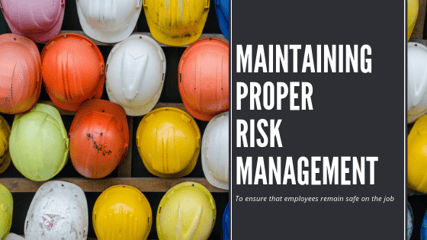 Why be OSHA Compliant
Safety should be the priority of any business, as an effective safety program not only protects the lives of your employees but can also end up saving money in lower costs, increased productivity, and higher employee morale. The United States Department of Labor states that an effective safety and health program can save $4 to $6 for every $1 invested, and it has been estimated that employers in the U.S. pay almost $1 billion per week for direct workers' compensation costs. That isn't even accommodating the indirect costs of lost productivity, repairs on damaged equipment and property, and costs associated with lower employee morale!
Take a look at the OSHA's Safety Pays Program, it is a helpful online tool that gives estimated indirect and direct costs of occupational injuries and illnesses. Some highlights from the program are:
Amputation

Direct Cost-$88,991
Indirect Cost-$97,890

Burn

Direct Cost-$43,661
Indirect Cost-$48,027

Concussion

Direct Cost-$52,120
Indirect Cost-$57,332

Hernia

Direct Cost-$21,437
Indirect Cost-$23,580

Sprain

Direct Cost-$30,798
Indirect Cost-$33,877
It should be noted that the extent to which the employer pays the direct costs depends on the employer's workers' compensation insurance policy, and the employer always pays the indirect costs. Thus, safety should be prioritized to lower workers' compensation costs and medical expenses, avoid costly OSHA penalties, and reducing costs to train replacement employees.
Steps Towards Risk Management
Any safety and health program should be custom tailored to fit the company's needs as there are different OSHA requirements across different industries. Although any effective program should have five key components:
Management leadership and employee participation- Employers and employees must have an active role together in order to make safety and health a company priority. This can be achieved by leadership taking an active part in safety activities, holding meetings that focus on employee safety and health, and showing commitment by investing time, effort, and money in safety and health programs.
Workplace analysis- This process is where employers and employees must analyze all worksite conditions to identify and eliminate any potential hazards. This should be done on a regular basis to minimize any potential safety risks and should be done in a timely manner.
Hazard prevention and control- This involves ensuring that all employees understand the appropriate safe work procedures for their job to mitigate and control potential work hazards. This also involves having a medical program that is tailored to your facilities needs to prevent workplace hazards and exposures.
Safety and health training and education- This tip is to ensure that everyone in the workplace is properly trained and ready to handle an emergency situation. Other useful measures to take are holding emergency preparedness drills for employees, keeping all employees safety certifications up to date, or training supervisors and managers to recognize hazards and understand their responsibilities.
and Program evaluation- Maintaining an effective safety and health program requires diligence on management's part, and by annually evaluating the effectiveness of the program the business can help mitigate workplace hazards.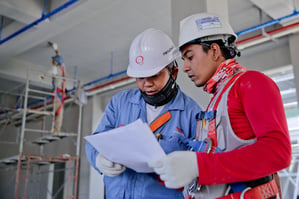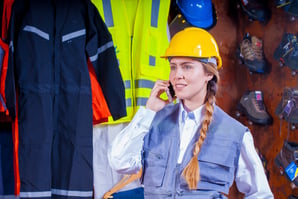 This has been a very brief guide on achieving OSHA compliance in a business. In reality, it's possible that a business may have to comply with a mix of federal and state rules, so its important to actively stay engaged with the rules and regulations of your industry. Compliance not only keeps your employees safe, but it ends up saving the business money in the long run. What could end up costing thousands of dollars in raised insurance premiums can simply be avoided with a few dollars spent in an effective safety and health program.
Are all of the OSHA regulations starting to boggle your mind? SolveHR offers a comprehensive safety management package that is guaranteed to keep your business compliant and your employees safe. Let SolveHR handle the hard stuff so you can focus on what's important—growing your business!