With unemployment rates in the United States sitting at a low 3.6 percent, employers are offering employee benefits to recruit and retain talent. A generous benefits package is key to staying competitive in the hiring market, but often it can seem difficult deciding what benefits employees value most.
Large companies like Facebook are famous for offering their employees over-the-top perks like free housing and shuttles to and from work for interns. Netflix offers employees up to one year of paid parental leave and unlimited vacation policy! Goldman Sachs offers on-site childcare and student loan debt repayment.
But what is a small business supposed to offer if they can't afford benefits like these giant companies? This week we will be taking a closer look at employee benefits and getting to the bottom of what employees are looking for in a benefits package, so you can stay competitive in the market and not hurt your wallet in the process.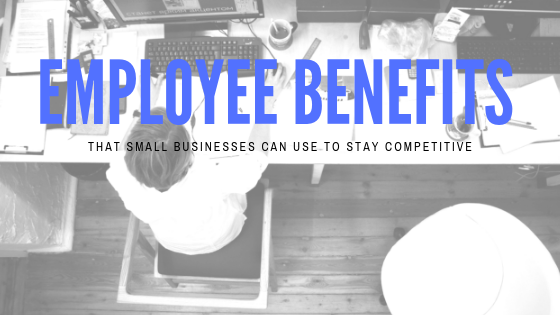 Types of employee benefits
There are four major types of employee benefits that employers can offer their employees. Each of these four is essential for attracting and retaining talent and make up the core of any benefits package. The four major types of benefits are:
Medical- This is the most common type of benefit that employers can offer. The rising cost of health insurance, hospital visits, dental, vision care, and prescriptions are causing this to be an important benefit to offer to employees.
Life- Another common benefit that is offered is life insurance or accidental death and dismemberment (AD&D) insurance. This ensures that if an employee passes away then their funeral and ongoing living expenses will be paid out to their family. AD&D insurance provides a lump sum payment if the death or dismemberment of an employee occurs due to an accident. Both of these benefits provide employees with peace of mind and are a valuable tool to attract talent.
Disability- Employers can offer short-term and/or long-term disability insurance to their employees. This covers if an insured employee is injured or sick, the benefit will pay the employee for the length of time they are unable to work. If an employee is temporarily sick or unable to work they would receive the short-term disability, and if they have a more permanent illness or injury preventing them from work they would receive the long-term benefit.
Retirement- There are a number of retirement accounts that an employer can offer its employees, but the most common type of retirement account is the 401(k) plan. This allows employees to deduct a certain percentage of their paycheck to put towards retirement savings. Other retirement accounts that can be offered are Simple IRA, Roth 401(k), 403(b), and more.
Employers can also offer what is known as fringe benefits to their employees. These benefits are any added benefits which help supplement an employee's salary. Usually, these benefits are additional work perks as opposed to insurance packages and other necessities. This could include free lunches, bonuses, paid parental leave, and more.
Most important benefits to employees
So what benefits should you offer to keep the employees you have and retain new talent? Well, a study conducted by Fractl surveyed 2,000 employees across various industries to understand this question. They gave the participants of the survey seven-teen benefits and asked them how heavily they would weigh each benefit when deciding between a high-paying job and a lower-paying job with more benefits.
The results of the study found some obvious answers, but there were some surprising results that could be offered to employees at a cheap cost to employers. The top five answers that were reported were:
Better health, dental, and vision insurance- 88% of respondents saying some or heavy consideration
More flexible hours- 88% of respondents saying some or heavy consideration
More vacation time- 80% of respondents saying some or heavy consideration
Work-from-home options- 80% of respondents saying some or heavy consideration
Unlimited Vacation- 68% of respondents saying some or heavy consideration
Health insurance sits at the top but is also the most expensive benefit to offer with an average cost of $6,435 per employee. The next most-valued benefits are the ones that offer flexibility and improve work-life balance. These benefits are important to employees and can give a competitive edge to lower-paying jobs. Parents especially enjoy the freedom of being able to spend more time with their children, increasing their productivity.
Flexible hours and work-from-home options are excellent choices that are affordable for companies wanting to offer appealing benefits but can't afford the cost of expensive benefits packages.
More vacation time and unlimited vacation was also a popular benefit that employees stated they wanted. At first glance, an unlimited vacation plan may seem like it would be subject to abuse by employees, but U.S. workers are notorious for not using vacation days. An article from CNBC states that U.S. workers forfeit more than 200 million vacation days annually, totaling to more than $66.4 billion in lost benefits each year.
Unlimited vacation time can help save money in the long run by not having to pay out any unused vacation days to employees leaving the company, saving more than $1,898 per employee according to research form the U.S. Travel Association. It also demonstrates trust in the employees by making them responsible for ensuring that their work is done regardless of the time they take away from the office.
So when deciding on what benefits to choose to offer your employees just remember the recommendations that we made. Offering employees competitive benefits can lead to happier workers, increased productivity, and could even end up saving the business money in the long run.
Need help deciding what benefits are best for your business? SolveHR takes the guesswork out of choosing benefits with our experts who are trained to find a solution tailored to your business's needs. Contact us to find out how our transactional HR services can simplify the administration work that goes into managing benefits so you can focus on what matters—growing your business!