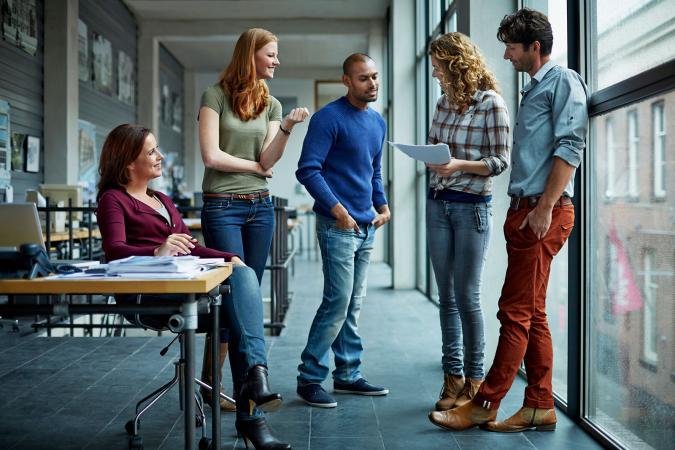 Don't focus on the PPP's ( Pointless Policies and Procedures).
Good Afternoon Everyone, my name is Bryan Gonzales and I am the VPHR for On The Spot Management and solvehr.com
Through the years, I recorded and analyzed many observations pertaining to culture by participating in various summer jobs and internships by the early age of 16. Not only did I gain knowledge of specific job duties but most importantly, I gained the knowledge of each companies' personality and values, better known as culture. As I look back, I noticed that the companies' who focused on frivolous policies and procedures struggled to recruit and retain employees.
Starting from the age of 16, I often asked myself these questions:
Who suggested the standard work hours of 8-5 and why are those hours so important?
Who created the business casual or professional attire dress-code when it has no correlation with employee performance?
Who created the ridiculous PTO policy that treats employees like children who must wait to accrue a certain amount per pay period or by hours worked to enjoy their personal life with families and friends?
And most importantly, who has the right to create these standards without asking the most important asset of each company- employees (us).
Every interview I gained regarding a position of interest, I asked most of these questions, but and the most common answer I received was "It has always been this way". Well, so what? There are many things that have been the same for certain periods of time until someone notices that it is wrong or not important. That is the point I am trying to address. Only focus on the important critical functions of your company and stop focusing on polices or standards that, with all due respect, makes no sense. We have to look at each employee individually, and not assume these standards are perfect across the board.
Yes, I understand that some companies need to maintain the 8-5 schedule or the strict dress code for safety and the professional image of the business; however, most companies really don't need to. Me personally, I am a night owl; I am more productive during the late hours of the day. If I am required to come in as early as 8am, then I won't be productive in what I do. If the overall goal is to be productive and increase business activity, then why should the option of a flexible schedule be out of the discussion? You get what I'm saying? We are all different, and all have different needs.
When I first came to On The Spot Management, I was told my hours were 8am-5:30pm, and the dress code was business casual with jeans on Friday. Of course, that was something I was not fond of, but I was eager to have this position. I explained to my manager at the time, that 8am is early for me due to traffic, and if I could be given the opportunity to work from 9am-6:30pm. They said yes, and I starting coming in at 9:00am. It worked out perfectly, no traffic, and no hardship on the business.
Another thing that bothered me was the PTO accrual, and the business casual environment. First, my job at the time was to be on the phone interacting with clients who had no face-to-face interaction with me. I am sure they were more concerned with the delivery of my words than what I was wearing in my cubicle. I always laughed at the fact that we were only allowed to wear jeans on Friday because "that was just the way it's been." Oh well, what could I do right? I am just an employee……
You see, that is the problem. I, as an employee was not put into consideration during these culture initiatives. Long story short, I was promoted, and the first thing on my list was to convince the CEO to change the culture that had been the same for over 20 years. It sounds hard, right? Well, it was not. When you have a CEO, who wants all ideas supported by data, then that is your chance to prove your point. In a matter of a week, I changed the following policies, and added these instead:
We changed the Business Casual policy to, "Dress Appropriately and Presentable." A lot of people were shocked by this policy, because there were no guidelines, and that's the point. We should not have to have guidelines on what to wear, what inches your jeans are, or your spaghetti straps. We are all adults; we should know what look appropriate and presentable means. You can wear jeans and still look great. We don't want you to just come out of bed and look like you just woke up and had a bad night. We want you to take your image into consideration, and there are many ways to do that.
The hours, 8-5:30, I understand certain positions require employees to work those hours due to deadlines and client interactions, but others did not. For exempt employees, we talked to each of them, asked them what hours they would like, and then assessed the potential risk of the proposed hours of the business and to our clients. To the employees I manage, I only had one rule: "Make sure the decisions you make regarding your hours and time off do not have a negative impact on your team or to the business." I will not manage them based on how many hours they work, but only on their job performance. If I hired you, then I believe you will get the job done.
PTO, this one was a big hesitation because I knew it would be hard to convince the CEO to allow exempt employees to have "Unlimited Paid Time Off". I backed the suggestion with data and added some guidelines that addressed the criteria needing to be met in order to take time off. Luckily, my CEO is a brilliant man and cares for the wellness of his employees, so there was no resistance to the policy. For Hourly employees, well I really can't give that away yet because I created something most companies aren't doing, and we don't need the added competition, at the moment…
I understand that not all companies are able to offer these special benefits, but that does not mean you cannot listen to your employees and find ways to meet their needs. Here are some tips and guidelines to take pertaining to culture changes and processes:
Asses the importance of each policy in regards to the overall success of the company and the potential risk it has.
Survey your employees to find out the pros and cons they are currently facing within their job duties.
Look at each policy and decide how you can improve it and make your company stand out to it's competitors.
And finally, never and I mean NEVER say " It has always been this way and we will not change"
Email me @ bryangonzales@Pinnaclepeo.com for any questions; I am always willing to help. Thanks!
- Bryan Gonzales